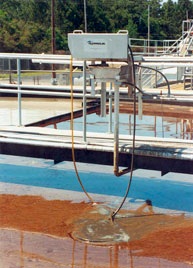 When it comes to business challenges, packaged-food manufacturers have their plates full. Dietary trends, food safety, labeling regulations, drought conditions and energy issues are just a few of the major concerns you likely face if you're in the industry, according to Food Processing magazine's "2013 Food Industry Outlook."
With these issues front and center, the last thing you should worry about is the efficiency of your waste-oil collection efforts. But a poorly functioning oil-collection process could be a costly problem within your facilities. That's where tube oil skimmers come into play. One of our food processing customers, Brakebush Brothers, uses two Model 6V Brill Oil Skimmers to remove 1,392 pounds of oil per day from wastewater generated during equipment cleanup.
Since implementing the system, Brakebush doesn't have to purchase additional chemicals to treat the oily wastewater. The oil skimmers also have eliminated large oil slugs that would form in the wastewater and clog the belt filter press.
As a packaged foods manufacturer you probably already have some type of oil-recycling program. Even so, you probably flush a significant amount of oil into wastewater streams when you clean cooking pots and other production equipment. This causes several problems:
The presence of cooking oils in wastewater requires greater use of treatment chemicals, which increases costs
The life of filter media and its efficiency declines
The amount of sludge requiring disposal increases, which requires additional labor and possible municipal surcharges
The loss of a valuable commodity
You have several options for separating and removing waste oil before it becomes a costly issue. You may have even tried some of these methods, including displacing the oil by raising the water level or maybe even a floating pump or adsorbent padding. If so, you already know these methods are costly and inefficient.
For instance, displaced oil contains water, which lowers or eliminates its resale value. Likewise, floating pumps remove large amounts of water along with the oil, while absorbent pads are more suited for oil-spill cleanup rather than ongoing removal needs.
Tube skimmers are more appropriate for foods producers because they continuously remove oil from the water surface by applying a closed-loop tube that attracts the floating oil or grease. Continuous movement of the tube creates a slight current in the water to attract oil, even if it's a very thin layer. This results in the removal of more oil and less water.
By recovering more oil, Brakebush also collects more money. The Westfield, Wis., frozen chicken producer pumps its recovered oil into a 5,000-gallon tanker and sells the waste to Sanimax, an international company that manufactures biodiesel from used cooking oil.
Another one of our food manufacturing customers sells about 8,000 gallons of skimmed oil each month to biofuel producers. The company, based in Ohio, also has cut hauling costs for sludge removed from wastewater by 30 percent. The company tells us that the skimmer removes 2,000 gallons of oil a week from water after it's used for processing and equipment cleaning.
"The filter press performance has increased, requiring less operator time cleaning the press," the company's wastewater treatment facilitator told us.
In addition to cost-cutting and revenue opportunities, oil skimming allows you to refocus your efforts on some of the more pressing issues impacting your company and the entire food processing industry.
FREE WHITE PAPER: How Food Producers Reduce Costs and Increase Efficiency in their Wastewater Treatment System